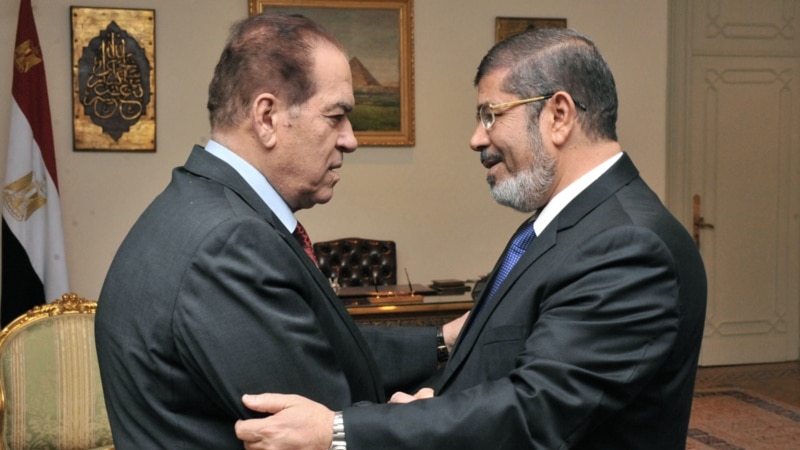 CAIRO – Egypt's Islamist president-elect Mohamed Morsi has started work on forming what he pledges will be an inclusive government, one day after being declared the winner of the country's first free, democratic presidential election.  
Following his election Sunday over former prime minister Ahmed Shafiq, Morsi now is focusing on building his civilian administration, which will include what he promised will be a diverse range of vice presidents.
Morsi faces the difficult task of healing national divisions and convincing all Egyptians, including religious minorities and women, that their interests will be equally protected.  Already, he has resigned from the Muslim Brotherhood and its Freedom and Justice Party, in a gesture to other parties with whom he hopes to form a unity government.
Egyptian media reported Monday that president-elect Morsi has moved into former president Hosni Mubarak's office.
Outgoing Prime Minister Kamal al Ganzouri has submitted his resignation, but will remain in a caretaker capacity until the new government is in place.
Morsi is due to take the oath of office in front of Egypt's Constitutional Court instead of parliament, because of the recent court-ordered dissolution of the legislature.
He had insisted until recently that his supporters would protest in Cairo's Tahrir Square until parliament is restored.
By Monday afternoon, fewer than a thousand protesters remained in Tahrir Square and traffic appeared to be flowing as usual. A number of tents remained in the center of the square and some protesters insisted that they were planning to remain until parliament was reseated.
In a speech late Sunday, Morsi
Category: Africa News